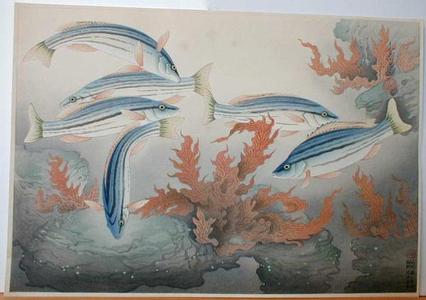 Artist: Bakufu Ohno
Title: Unknown 8
Date: 1937
Details: More information...
Source: Japanese Art Open Database
Browse all 17,130 prints...
Description:
5 BAKUFU OHNO FISH WOODBLOCK PRINTS c 1938 approx 11" x 16" Five original woodblock prints in the Familiar Fishes of Nippon, designed by Bakufu Ohno, with the original folders and some text in Japanese and English. The folders have titles that are woodblock prints as well. The folders and backing paper have stains, but overall the prints themselves are in good condition with a few having minor stains. The one included booklet has information on the carp (Funa) and it is dated 1938. Other fish represented are fugu (pufferfish) and grunts, as well as some that I don't recognize.