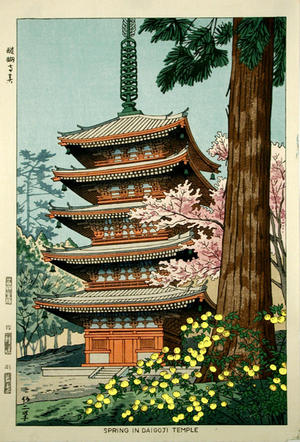 Artist: Fujishima Takeji
Title: Spring in Daigoji Temple
Date: 1948
Details: More information...
Source: Japanese Art Open Database
Browse all 17,130 prints...
Description:
Takeji ASANO (1900-??) "Spring in Daigoji Temple" 1948 Print size is 15.75" x 10.75" Early Edition Condition is very good. No tears, folds or creases. This print is perfect in every way. Strong image bleedthrough to verso Master Asano was one of the great talents of the Shin Hanga era. His skills went far beyond that of artist, as he was a skilled carver as well. He collaborated throughout his career with many of the finest artists of his time, producing many important and acclaimed works. This early strike evidences the publisher's watermark (GEI) in the lower left corner and the all-important double carver (Nagashima)/printer (Shinmi) seals as well as the artist seal. Master Shinmi is quite elderly and has long been retired, evidencing this print to be an early edition.