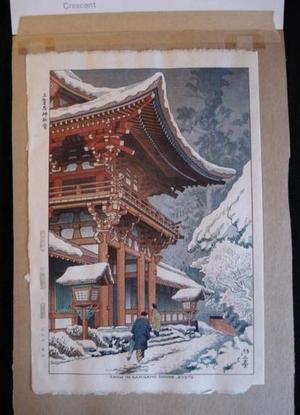 Artist: Fujishima Takeji
Title: Snow in Kamigamo Shrine, Kyoto
Date: 1953
Details: More information...
Source: Japanese Art Open Database
Browse all 17,130 prints...
Description:
Friday, 4 May 2007 1ST EDITION Takeji ASANO JAPANESE WOODBLOCK Print SNOW NO RESERVE PRICE. 14 1/4" x 20 1/4" including frame. Print measures 10 3/4" x 16". Fine Takeji Asano (1900-1999) original first edition Japanese woodblock print entitled "SNOW IN KAMIGAMO SHRINE, KYOTO." It depicts a scene of a large temple after a recent heavy snow with two people making their way up to the shrine. Striking composition and perspective with a quiet and reverent mood. This first printing was executed by Unsodo and is dated 1953 and watermarked with the Unsodo seal (see photos). Original frame, mat, and non-glare glass from the 50's by The Artist's Frame Shop in Binghamton, N.Y.. MINT CONDITION: The print is free of stains, tears, foxing, damage, or restoration. Bright colors and strong contrast with no fading. Mounting tape was used on the back top margin to secure the print to the back mat. The frame has some very minor wear to the paint.