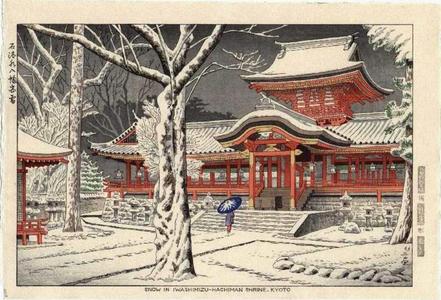 Artist: Fujishima Takeji
Title: Snow at Iwashimizu-Hachiman Shrine, Kyoto
Date: 1952
Details: More information...
Source: Japanese Art Open Database
Browse all 17,130 prints...
Description:
Woodblock by Asano 'Snow at Iwashimizu-Hachiman Shrine, Kyoto' Beautiful snow scene titled in both Japanese kanji (left margin) as "Iwashimizu Hachimangu Yuki" and in English at bottom as "Snow in Iwashimizu-Hachiman Shrine, Kyoto" by Takeji Asano (1900-??). Asano, who also excelled as a carver, is known for having produced several series of prints depicting the Kyoto area of Japan. Bears artist's signature of "Takaji ga" lower right corner of image. Print bears Unsodo's Publisher's rectangular seal in right margin along with the carver/printer seals of Okura/Shinmi. Print itself is undated, however Okura (carver) is known to have worked for Unsodo during the 1950's. Also bears "Gei" watermark ("gei" is the first kanji character of the of the Unsodo Publishers name, "Un-so-do," which is spelled "gei" if alone) in the upper left corner. Clearly printed on older, hand-made paper. Circa very late 1950's/early 1960--to learn more about "old paper," click the following link about Old Paper. SPECIAL NOTE: In mid-year 2000, consignor located and spoken with the actual printer, Shinmi (now in his 90's) and determined that same with Asano's "Kamigamo" print, that these too were confirmed to be from the publisher's original remaining "very early edition" prints. Thusly, these are from the publisher's original remaining "very early edition" prints (of which my consignor bought the ENTIRE remaining inventory). And, as I always say, "when they're gone, they'll be gone forever." Image measures 9 ? x 14 ? inches.