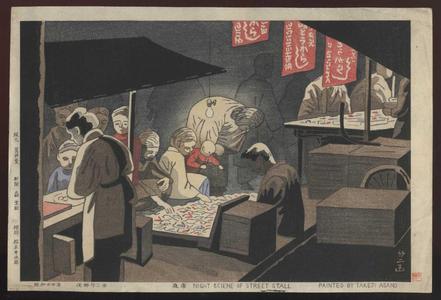 Artist: Fujishima Takeji
Title: Night Scene of Street Stall
Date: 1949
Details: More information...
Source: Japanese Art Open Database
Browse all 17,130 prints...
Description:
Original woodblock print of "Night Sciene of Street Stall" (sic) by shin hanga artist Takeji Asano. Print is dated Showa 24 (1949). Oban size measures 10.3 x 15.5 inches. Fine color and impression. Very good condition. Left margin indicates print was published by Unsodo, carved by Mori and printed by Sugimoto. Good texture and ink bleedthrough.