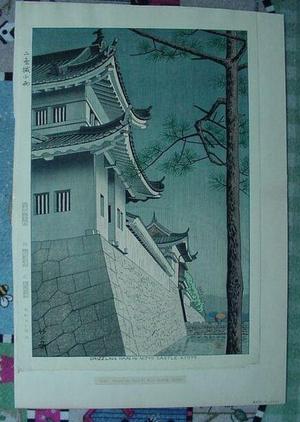 Artist: Fujishima Takeji
Title: Drizzling Rain in Nijyo Castle Kyoto
Date: Not set
Details: More information...
Source: Japanese Art Open Database
Browse all 17,130 prints...
Description:
A lovely woodblock print from Asano Takeji (born 1900). Graduated Kyoto City School of Fine Arts and Craft in 1919 and Kyoto City Specialist School of Painting in 1923. In 1930 participated with Tokuriki Tomikichiro and Asada Benji in creating the series "Creative Prints of Twelve Months in New Kyoto published by Uchida. He also created other series of landscapes in 1930s. Self-carved, self-printed series "Noted Views in the Kyoto Osaka Area in 1947. An excellent carver. He was a member of Nihon Hanga Kyokai 1955-1960. This print "Drizzling Rain in Nijyo Castle. Kyoto" is mounted in 2 left corners to original paper which marked "Made in Japan". Trimmed partly on top of the margin. Great impression. No tone, no foxing.