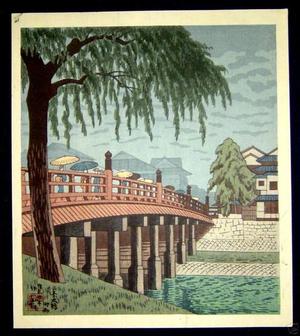 Artist: Fujishima Takeji
Title: Rain at Sanjo Ohashi
Date: 1955
Details: More information...
Source: Japanese Art Open Database
Browse all 17,130 prints...
Description:
Monday, 16 July 2007 You are bidding on a very beautiful and rare SELF-CARVED and SELF-PRINTED original Japanese woodblock print "Rain at Sanjo Ohashi (Bridge)" from the Series of "New Kyoto Scenery"NO! Signed by the famous Showa Shin Hanga woodblock print master Asano Takeji (1900-1999) made in Showa 30, which is 1955. The print size is 12 x 10 1/4 inches. The colors, which are vivid and vibrant, are in layers. The artist's signature, his chop mark indicating ARTIST-CARVED and ARTIST-PRINTED, the name of the print, and the publication date Showa 30 (1955) are at the lower left corner of the print. Four borders are intact. Except for a light ink smearing at the very upper left corner tip of the print in the border, which I believe has been there since the print was first made; this woodblock print is IN EXCELLENT CONDITION.