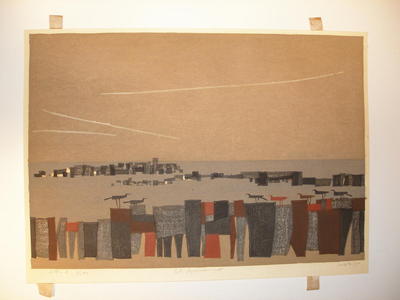 Artist: Amano Kunihiro
Title: Mountain Kabuto A — 山甲A
Date: 1965
Details: More information...
Source: Japanese Art Open Database
Browse all 17,130 prints...
Description:
Tuesday, 21 September 2010 Dr. Walker ? I have attached some pictures of two woodblock prints I have by Kunihiro Amano that I am interested in selling. One with the large bird is 21 ? x 14 ?(actual printed area), 33/50, '61.11. It, unfortunately has a slight tear in the upper middle edge of the paper. The other print of the rocks and birds is 22 ? x 15 ?, 2/50, '63.1. Both were purchased in Japan by my father, probably in the mid 60's to early 70's when he was a commercial airline pilot with Pan Am.