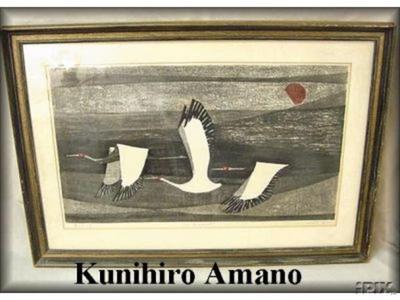 Artist: Amano Kunihiro
Title: Flying
Date: 1957
Details: More information...
Source: Japanese Art Open Database
Browse all 17,130 prints...
Description: Up for auction, an original woodblock picture from well known Japanese artist, Kunihiro Amano. This picture is still in the original frame and is unopened. The frame size is 29 ?" x 20 ?", with the inside measurements of the matting being 23" x 14 ?". The print looks to be in excellent condition, no fading of the colors but the inside edge where the matte is looks to have yellowed a bit over time. There is the name at the bottom center, the date in the bottom right and Japanese writing, perhaps the title, in the left-hand corner. I have pictured all three for you to see. This picture came out of an estate where the owner had purchased many fine art paintings throughout the years. There is no number on this, perhaps a "one of a kind"!