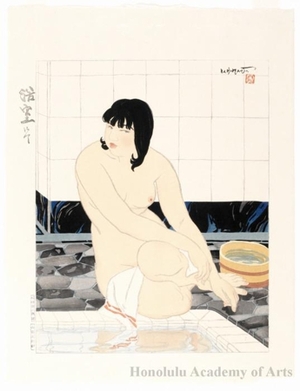 Artist: Ishikawa Toraji
Title: Nude at Her Bath
Date: 1954
Details: More information...
Source: Honolulu Museum of Art
Browse all 5,435 prints...
Description:
The Ishikawa Toraji prints in this gallery are all from the same series, Ten Types of Female Nudes, designed and carved in 1934. In this series, the women are engaged in various activities, including reading, bathing and playing with a dog. The manner in which nudity is depicted demonstrates a strong Western influence. However, the portrayal of beautiful women has long been a common subject in the Japanese woodblock print tradition.