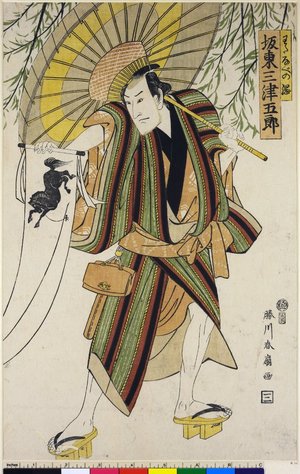 Artist: Katsukawa Shunsen
Title: triptych print
Date: 1805
Details: More information...
Source: British Museum
Browse all 9,127 prints...
Description:
Colour woodblock print, oban triptych. The kabuki actors Bando Mitsugoro III as Watanabe no Tsuna, standing in geta clogs with an umbrella over one shoulder and a tobacco pouch suspended from his obi, holding the top of the white banner of the Genji clan in one hand, Ichikawa Omezo I as Soma no Yoshikado, kneeling, with sword, grasping the other end of the banner, and Iwai Hanshiro V as Koyuki standing at the base of a bridge as she looks on. All three are depicted below the branches of a weeping willow tree. From the play 'Seiwa Genji nidai no yumitori' by Katsu Hyozo I (Tsuruya Nanboku IV); performed at the Nakamura-za in the 11th month of 1805.