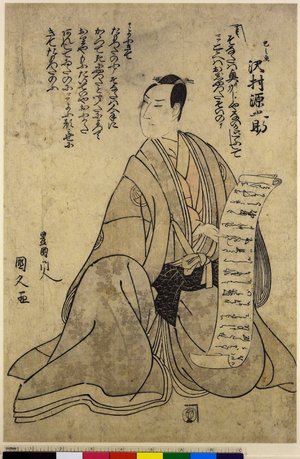 Artist: Utagawa Kunihisa
Title: diptych print
Date: 1804
Details: More information...
Source: British Museum
Browse all 9,127 prints...
Description:
Colour woodblock print, oban diptych. The kabuki actors Sawamura Gennosuke I as Tomoenojo (right sheet), seated, holding a letter scroll, and Segawa Michinosuke I as the ghost of the courtesan Oshu (Keisei Oshu no yukon), in the dance 'Sono omokage Asamagatake', (lyrics by Masuyama Kinpachi I); performed at the Ichimura-za in the 7th month of 1804.