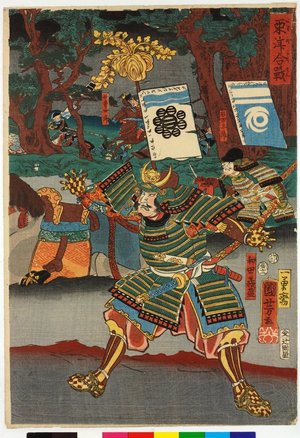 Artist: Utagawa Kuniyoshi
Title: Awazu kassen 粟津合戰 (Battle of Awazu)
Date: 1855 (12th month)
Details: More information...
Source: British Museum
Browse all 9,127 prints...
Description:
Woodblock triptych print, oban tate-e. Wada Yoshimori (right) holding out both arms, Minamoto no Yoshinaka (centre) shot through the forehead with an arrow whilst riding through a bog, and Tomoe Gozen (left) riding down a hillside wielding a tree trunk.