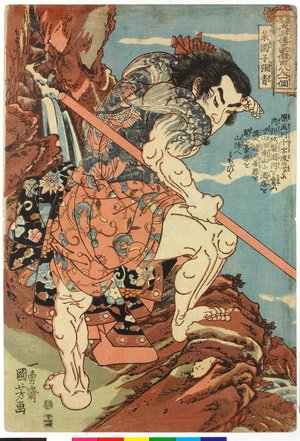 Artist: Utagawa Kuniyoshi
Title: Saienshi Chosei 菜園子張青 (Zhang Qing) / Tsuzoku Suikoden goketsu hyakuhachinin no hitori 通俗水滸傳濠傑百八人一個 (One of the 108 Heroes of the Popular Water Margin)
Date: 1827-1830
Details: More information...
Source: British Museum
Browse all 9,127 prints...
Description:
Woodblock print, oban tate-e. Zhang Qing armed with a staff carrying a pole, looking down from a promontory, with a waterfall in the background. Stripped to the waist and heavily tattooed with a design of the monkey king Sun Wukong.