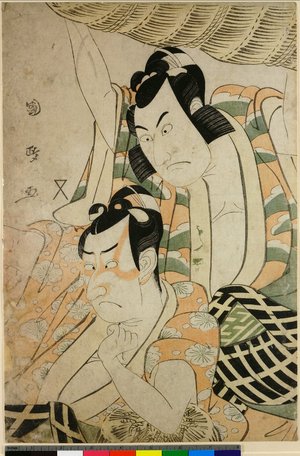 Artist: Utagawa Kunimasa
Date: 1797
Details: More information...
Source: British Museum
Browse all 9,127 prints...
Description:
Colour woodblock print, oban. The kabuki actors Sawamura Sojuro III as Matsuomaru, lifting a straw rice bale above his head as he fights with Ichikawa Omezo I as Umeomaru, in Act III, scene 2, 'Satamura ga no iwai', from the play 'Sugawara denju tenari kagami' by Takeda Izumo II, Miyoshi Shoraku and Namiki Senryu, performed at the Kiri-za in the 9th month of 1797.