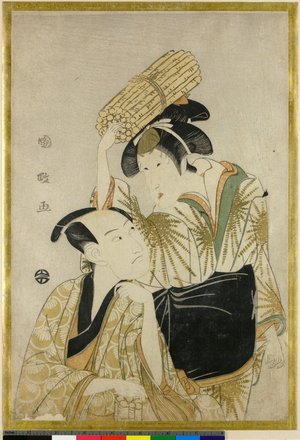 Artist: Utagawa Kunimasa
Date: 1797
Details: More information...
Source: British Museum
Browse all 9,127 prints...
Description:
Colour woodblock print, oban. The kabuki actors Segawa Kikunojo III as Koina, carrying a bundle of faggots on her head, and Sawamura Sojuro III as Hanbei (having changed his name from Hanjuro), resting one hand on another bundle, in the dance 'Michiyuki koi no omoni', part of Act II of the play 'Tsukiwa Musashino aki no sewagoto' by Namiki Gohei I; performed at the Kiri-za in the 7th month of 1797.