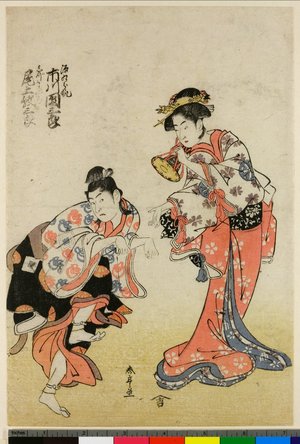 Artist: Katsukawa Shuntei
Date: 1801 (artist)
Details: More information...
Source: British Museum
Browse all 9,127 prints...
Description:
Colour woodblock print, oban. The kabuki actors Ichikawa Danzaburo IV as the fox Genkuro (Genkuro Kitsune) and Onoe Monzaburo II as Shizuka Gozen holding a tsuzumi drum, in the play 'Yoshitsune senbon zakura' by Takeda Izumo II, Miyoshi Shoraku and Namiki Senryu, probably performed at a 'children's theatre' (kodomo shibai).