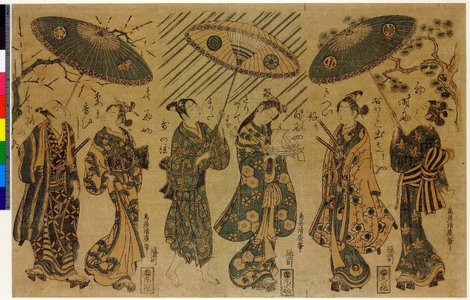 Artist: Torii Kiyohiro
Title: triptych print
Date: 1753-1754 (c.)
Details: More information...
Source: British Museum
Browse all 9,127 prints...
Description:
Woodblock print, triptych print. Six actors under umbrellas, each bearing two identifying crests (from right): Segawa Kikujiro, Arashi Wakano II, Nakamura Tomijuro, Sanogawa Ichimatsu, Nakamura Kumetaro and Ichimura Kamezo. With three poems. Printed three sets of blocks on to one piece of paper. Inscribed, signed and marked.