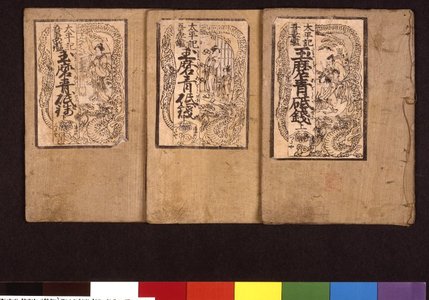 Artist: Kitagawa Utamaro
Title: (Taiheiki Azuma-kagami) Tama migaku aoto-ga-zeni 太平記吾妻鑑 玉磨青砥銭 (Chronicle of the Great Pacification, Mirror of the East: Polishing the Jewels, Aoto's Small Change)
Date: 1790
Details: More information...
Source: British Museum
Browse all 9,127 prints...
Description:
Illustrated books, 3 vols. Kibyoshi. Woodblock-printed. Covers: Original, buff. Original illustrated title slips pasted in top left corners of covers. No. of leaves: (vol. 1) 5 (1 single-page preface); (vol. 2) 5; (vol. 3) 5. Inscribed, signed and sealed.