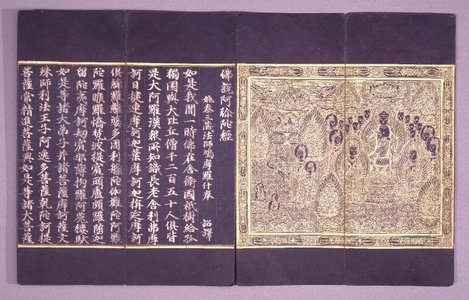 Artist: Unknown
Title: Amitābha Sūtra
Date: 1341
Details: More information...
Source: British Museum
Browse all 9,127 prints...
Description:
Illuminated manuscript of a Buddhist sūtra. Paradise scene, spread over two leaves, on the frontispiece to the Amitābha Sūtra. Śākyamuni flanked by Bodhisattvas and monks preaching to deities and other Buddhas, while two Bodhisattvas welcome souls to paradise. Painted and written in gold and silver on indigo-dyed paper by a monk-scribe for his mother. Inscribed.