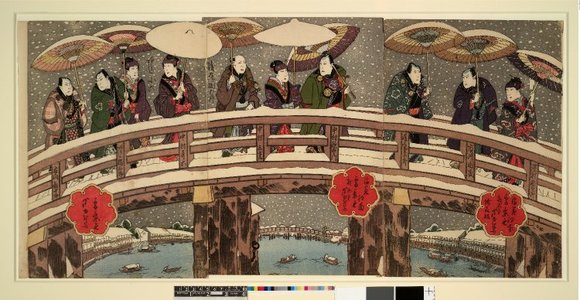 Artist: Gigado Ashiyuki
Title: triptych print
Date: 1825
Details: More information...
Source: British Museum
Browse all 9,127 prints...
Description:
Triptych: woodblock print from an album of 104 sheets. Ten leading Kabuki actors with umbrellas on the snow-covered Aiaibashi bridge in Dotombori, Osaka. The actors are (R-L): Sawamura Kunitaro II, Ichiwaka Danzo V, Onoe Kikugoro III, Nakamura Utaemon III (Shikan I), Nakamura Sanko I (Matsue III), Aaso Kunigoro III, Nakamura Karoku I, Arashi Koroku IV, Arashi Kitsusaburo II, Ichikawa Ebijuro I. Signed and inscribed.