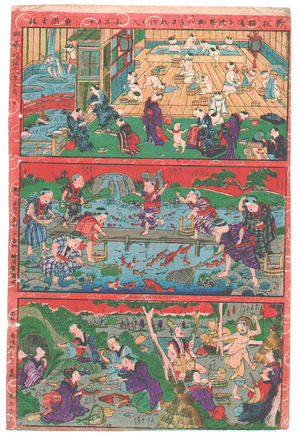 Artist: Utagawa Kuniaki
Title: Cat Bathhouse (Toy Print)
Date: 1885.
Details & Prices: Utagawa Kuniaki: Cat Bathhouse (Toy Print) - Artelino
Source: artelino - Japanese Prints
Browse all 24,756 prints...
Description:
"Shinban Neko no Yu, Kodomo Asobi, Kitsune Bakasare Zukushi" "Omocha-e" (toy print) depicting funny scenes. (top) Cats in Bathhouse. One of them eating fish. (middle) Children are fishing goldfish and carp from a pond. (bottom) People are having good time in a party served by somewhat strange looking waitresses (one of them has a bushy tail). Procession of foxes are passing on the background.