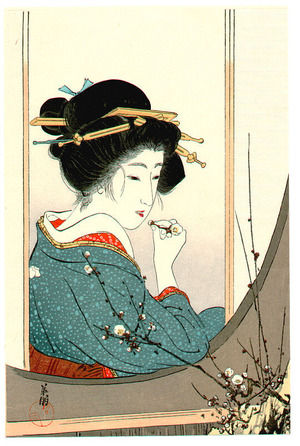 Artist: Hirezaki Eiho
Title: Plum Beauty
Date: Originally 1914 , this edition ca. 1980.
Details & Prices: Hirezaki Eiho: Plum Beauty - Artelino
Source: artelino - Japanese Prints
Browse all 24,756 prints...
Description:
"Plum Window" Geisha, Yonehachi. At a round window with plum blossoms. This elegant kuchi-e appeared in the Bungei Kurabu magazine in 1914. The largier, recarved edition by unknown publisher (edition size unknown either) was issued in 1980s reflecting its popularity. Eiho was a leading kuchi-e illustrator along with Kaburagi Kiyokata. His superb talent expressed his subjects with subtle feelings and the dramatic environments in most natural and elegant ways.