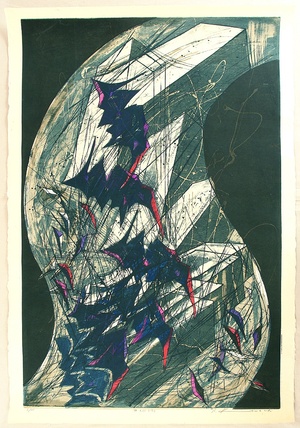 Artist: Seiko
Title: Flow
Date: 1988.
Details & Prices: Seiko: Flow - Artelino
Source: artelino - Japanese Prints
Browse all 24,756 prints...
Description:
"Ryu" ("Flow"). Kawachi has been considered as one of the foremost talent in the modern woodblock artists in Japan. His use of the natural woodgrain patterns, black lines and apparently irrational colored ink lines express vividly the nervousness and the sense of neurosis. His prints are in the collections of numerous institutions such as the Tokyo National Museum of Modern Art, Metropolitan Art Museum, The British Museum.