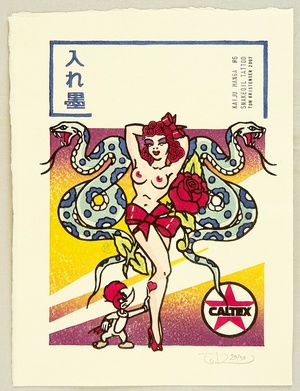 Artist: Tom Kristensen
Title: Kaiju Manga - Snakeoil Tattoo
Date: 2007.
Details & Prices: Tom Kristensen: Kaiju Manga - Snakeoil Tattoo - Artelino
Source: artelino - Japanese Prints
Browse all 24,756 prints...
Description:
From the series "Kaiju Manga", No. 6, "Snakeoil Tattoo". Woody Woodpecker, the famed cartoon character in American comic books with annoying laughter, is falling in love with a Tattoo Beauty. Regardless, it was made of Snake-oil or Crude-oil, the rather questionable beauty smiles at him dangerously. For more about the artist of this fascinating "Irezumi" (Tattoo) print, please read the related article.