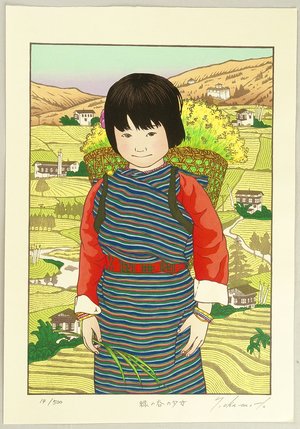 Artist: Okamoto Ryusei
Title: Children of Asia - Spirit of the Green Valley
Date: 1996.
Details & Prices: Okamoto Ryusei: Children of Asia - Spirit of the Green Valley - Artelino
Source: artelino - Japanese Prints
Browse all 24,756 prints...
Description:
From the series "Children of Asia", "Midori no Tani no Shojo" - "Spirit of the Green Valley". A girl from Bhutan. The artist wrote about this print design: "Following the ridge line the airplane touched down in Paro Valley, Bhutan. Positioned at the foot of the Himalayas, summer in Bhutan is brilliantly green. People wear clothes similar to Japanese kimono. There is no television, so children spend their time outside with their friends until sunset. They play hopscotch, fly kites, leapfrog, hoop-rolling and many other games all familiar to the Japanese. Not only the outfits but also many other things like physical appearances and actions such as singing and ways of counting numbers are identical to the Japanese traditions. Bhutan and Japan may be separated by great distances, but here in Bhutan I feel close to Japan.".