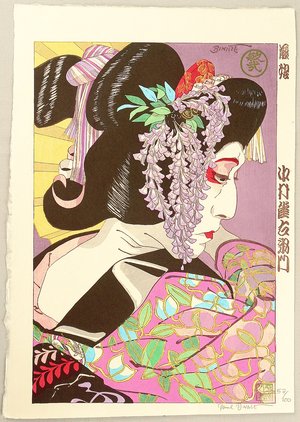 Artist: Paul Binnie
Title: Nakamura Jakuemon in Fuji Musume
Date: February - March 1997.
Details & Prices: Paul Binnie: Nakamura Jakuemon in Fuji Musume - Artelino
Source: artelino - Japanese Prints
Browse all 24,756 prints...
Description:
From the series, "Kabuki O-kubi E" (Large-head Portraits of Kabuki). "Fuji Musume" (The Wisteria Maiden). Nakamura Jakuemon IV, who is a living National Treasure, here portrays the spirit of the Wisteria in a dance which was derived from an Otsu-e image of a young woman carrying a wisteria branch. "Otsu-e were folk paintings sold as souvenirs of the town of Otsu, and have been considered by some as a fore-runner of Ukiyo-e" (description by the artist, Paul Binnie).