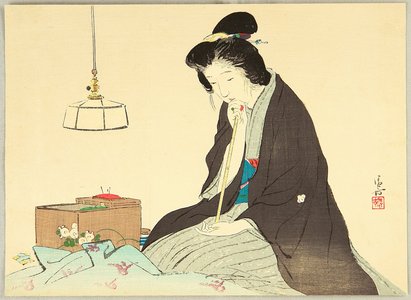 Artist: Kaburagi Kiyokata
Title: Seamstress
Date: Ca. 1900-1910.
Details & Prices: Kaburagi Kiyokata: Seamstress - Artelino
Source: artelino - Japanese Prints
Browse all 24,756 prints...
Description:
A woman with a measuring tape and a sewing box. Kiyokata was the master of depicting delicate beauties. He was able to depict the subtle emotional states of the subjects which was particularly suited for the illustrations of the popular literary magazines. These magazines were published by newly established publishers such as Bungei Kurabu, Shunyodo and Suzando. They, among which Chuo-koronsha, Kodansha, Shinchosha and others still exist, published not only literary subjects but also many different everyday subjects such as cooking, sewing and hobbies as monthly publications.