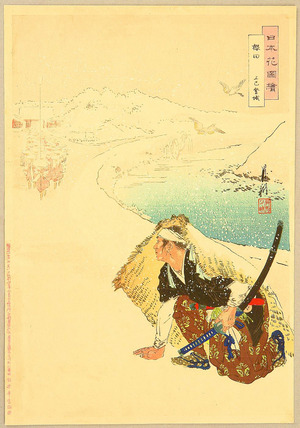 Artist: Ogata Gekko
Title: Assassin - Nihon Hana Zue
Date: 1892.
Details & Prices: Ogata Gekko: Assassin - Nihon Hana Zue - Artelino
Source: artelino - Japanese Prints
Browse all 24,756 prints...
Description:
"Nihon Hana Zue" (Pictures of Flowers of Japan) An assassin is waiting for the feudal lord, Ii Naosuke (the lord of Hikone and Tairo, Great Councillor, of the Tokugawa Shogunate), and his procession coming out from the Sakurada-mon Gate of Chiyoda Castle. Ii Naosuke was the man responsible for opening Japan to the West, for which he was assassinated at the Sakurada-mon on a snowy morning in March, 1860. .