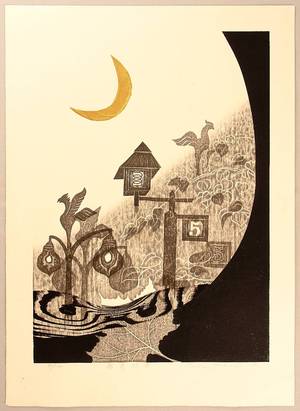 Artist: Iwami Reika
Title: Illusions of Ginza
Date: 1991.
Details & Prices: Iwami Reika: Illusions of Ginza - Artelino
Source: artelino - Japanese Prints
Browse all 24,756 prints...
Description:
"Ginza Genso" (Illusions of Ginza). Reika Iwami creates her rhythmical fluid world using natural wood grain patterns, Here, the glittering crescent moon illuminates the flowing Ginza Street and the retro-style gas lamps and street signs in silhouettes. They are all melting into the dark but pleasant memory. Reika Iwami's distinctive art works are in the collections of major museums in the world, such as the National Museum of Art in Osaka, the Museum of Modern Art in New York, Library of Congress, Rockefeller Foundation.