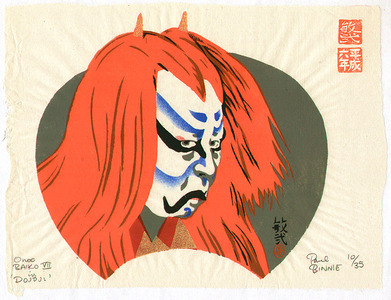 Artist: Paul Binnie
Title: Onoe Baiko - Snake Spirit in Dojoji
Date: November 1994.
Details & Prices: Paul Binnie: Onoe Baiko - Snake Spirit in Dojoji - Artelino
Source: artelino - Japanese Prints
Browse all 24,756 prints...
Description:
The ending of Musume Dojoji can have two conclusions, one with the dancer atop the temple bell she has caused to crash to the ground or the other, older and longer version, where the actor changes make-up and wig to become the serpent. This print reflects the latter with Onoe Baiko VII in a fan shaped window of a type popular in the Edo period. Kappa-ban (stencil print). - description personally by the artist.