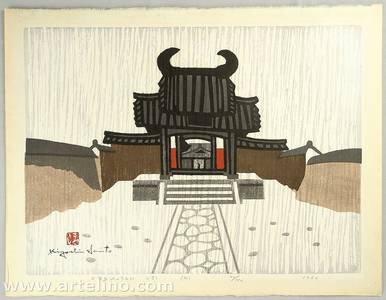 Artist: Asai Kiyoshi
Title: Obakusan Temple in Rain
Date: 1960.
Details & Prices: Asai Kiyoshi: Obakusan Temple in Rain - Artelino
Source: artelino - Japanese Prints
Browse all 24,756 prints...
Description:
"Obakusan, Uji". A heavily raining day at the front gate of Manpuku Temple ("Wan-fu-si" in Chinese) in Uji, Kyoto. Mampuku-ji is the head temple of the Obaku Sect of Rinzai Zen Buddhism. It was founded by the Chinese Zen master Ingen ("Yin-yuan" in Chinese, 1592-1673). He built the temple in 1661 on a hill he called Obakusan. The name was chosen to commemorate the original sect in China. The temple compound were constructed in Ming Chinese style.