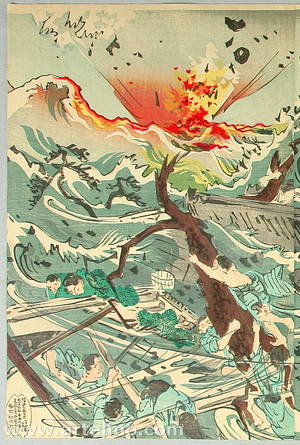 Artist: Utagawa Kokunimasa
Title: Tsunami Disaster in Meiji Era.
Date: 1896, July.
Details & Prices: Utagawa Kokunimasa: Tsunami Disaster in Meiji Era. - Artelino
Source: artelino - Japanese Prints
Browse all 24,756 prints...
Description:
In June 15, 1896, a large tsunami struck the part of Iwate, Aomori, Miyagi Prefectures in the north-eastern Japan. The tsunami destroyed more than 5000 houses, killed about 30000 people. The wave reached 30 m in height in some region. One large wave carried a woman who was taking a bath in a wooden bath tub and left her in the tub on top of a hill. She was unharmed. The Meiji Sanriku Tsunami was one of the largest natural catastrophe in modern Japanese history. .