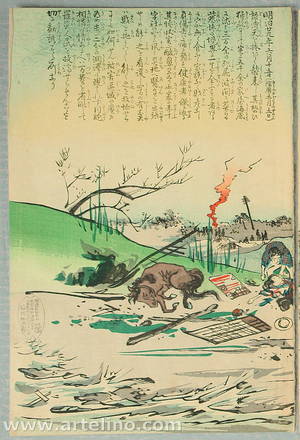 Artist: Utagawa Kokunimasa
Title: Red Cross at Tsunami Rescue
Date: 1896, July.
Details & Prices: Utagawa Kokunimasa: Red Cross at Tsunami Rescue - Artelino
Source: artelino - Japanese Prints
Browse all 24,756 prints...
Description:
In June 15, 1896, a large tsunami struck the part of Iwate, Aomori, Miyagi Prefectures in the north-eastern Japan. The tsunami destroyed more than 5000 houses, killed about 30000 people. It, Meiji Sanriku Tsunami, was one of the largest natural catastrophy in modern Japanese history. The newly estublished Japanese Red Cross swiftly came to the disaster area and helped the injured and organized the rescue efforts.