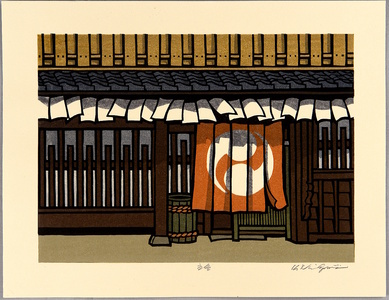 Artist: Nishijima Katsuyuki
Title: Ritto
Date: Late 20th century.
Details & Prices: Nishijima Katsuyuki: Ritto - Artelino
Source: artelino - Japanese Prints
Browse all 24,756 prints...
Description:
"Ritto" (The Change of the season around the early November). The store logo of "Junidan-ya" restaurant in Gion. The restaurant is small but noted for its unique design and decoration in Japanese Folk Art style. The guests can enjoy "Shabu-shabu-beef" as well as the beautiful ceramics and lacquer ware used for the serving. It also houses the master works of famous potters, Kawai Kanjiro, Hamada Shoji; and the world renowned artist, Munakata Shiko. One can not see so many works of these artists nowhere else in Kyoto.