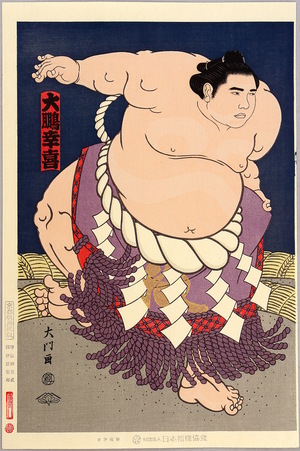 Artist: Kinoshita Daimon
Title: Champion Sumo Wrestler, Taiho
Date: Late 20th century.
Details & Prices: Kinoshita Daimon: Champion Sumo Wrestler, Taiho - Artelino
Source: artelino - Japanese Prints
Browse all 24,756 prints...
Description:
The 48th "Yokozuna" (Grand Champion sumo wrestler), Taiho Kouki. He built up the sumo grand epoch with the arch rival Kashiwado in 1960s. His illustrious career was littered with the records such as the tournament champion 32 times, undefeated tournament champion 8 times. Because of his great achievement, the Sumo Association awarded him the title of "Ichidai Toshiyori Taiho" and allowed him to open his own sumo school after the retirement in 1971. He became a director of Japan Sumo Association later. He was tall and handsome; and very popular "Yokozuna" among sumo-fan and non-fan alike. The catch-phrase, "Kyojin(the strongest team in the Japanese professional baseball league at that time), Taiho and Omelet" indicated children's three favorites in 1960s. He also donated blood-mobiles to the various Japan Red-Cross Organizations and television sets to many senior-citizen facilities. He has been revered as the greatest grand champion after World War II.