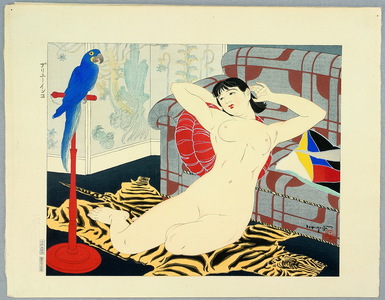 Artist: Ishikawa Toraji
Title: Blue Parrot - Ten Types of Female Nudes
Date: 1935.
Details & Prices: Ishikawa Toraji: Blue Parrot - Ten Types of Female Nudes - Artelino
Source: artelino - Japanese Prints
Browse all 24,756 prints...
Description:
"Rajo Jusshu" (Ten Types of Female Nudes). "Buryu Inko" (Blue Parrot). Toraji ISHIKAWA made a lasting impact by this bald nude series in the early 20th century Japanese printing art. The vivactious nudes in the colorful environment are quite different from the attractive but static beauties in Shin-hanga. The art-deco style sofa, strange plants on the room devider, tiger pelt; and the large blue macaw on which the girl casts dreamy eyes, all represent the romantic atmosphere of the Taisho - early Showa era.