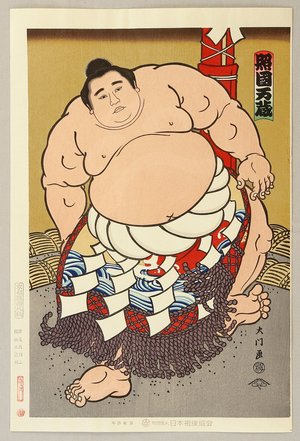 Artist: Kinoshita Daimon
Title: Grand Champion Terukuni - Sumo
Date: Late 20th century.
Details & Prices: Kinoshita Daimon: Grand Champion Terukuni - Sumo - Artelino
Source: artelino - Japanese Prints
Browse all 24,756 prints...
Description:
"Yokozuna" (Grand Champion) sumo wrestler, Terukuni Manzo (1919-77). He became the 38th Yokozuna when he was 23 years old. He had heart problems and was told by doctors not to do strenuous exercise because of fat accumulation around the heart. Although he suffered from diabetes and the knee injuries on top of heart problem, he stayed as Yokozuna for 10 years. Later, he became the president of the Japan Sumo Association.