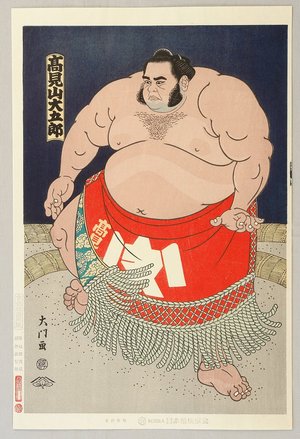 Artist: Kinoshita Daimon
Title: Champion Jesse Takamiyama - Sumo
Date: Late 20th century.
Details & Prices: Kinoshita Daimon: Champion Jesse Takamiyama - Sumo - Artelino
Source: artelino - Japanese Prints
Browse all 24,756 prints...
Description:
Takamiyama (Jesse) Daigoro came from Hawaii. He was the first foreigner who became the top division, "Maku-no-uchi", sumo wrestler and won the Maku-no-uchi tournament in 1972. At the victory ceremony, the USA president Nixon sent a congratulatory message to him. Although he came from abroad to the traditional sumo society, his outgoing character and stead-fast efforts were very popular. Jesse Takamiyama wrote several books, appeared numerous commercial broadcasts and contributed much to internationalize Japanese Sumo.