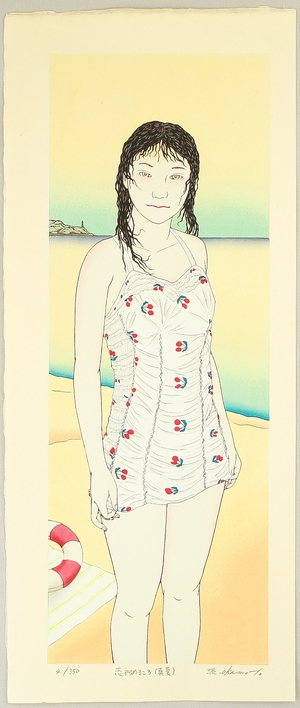 Artist: Okamoto Ryusei
Title: First Love # 27
Date: 2006.
Details & Prices: Okamoto Ryusei: First Love # 27 - Artelino
Source: artelino - Japanese Prints
Browse all 24,756 prints...
Description:
From the series "First Love", No.27. "Koi Somerukoro; Manatsu" (The Mid Summer). Ryusei often recited the famous poem about the first love by the poet Shimazaki Toson while he carved the wood blocks for 8 years to finish this series. He found the wet and gentle quality of Japanese paper and the watercolors of the traditional woodblock print were ideal for the expression of the lyrical states of the mind. In this print, a girl in a cherry pattern beach dress looks at the viewer in somewhat inquisitive way.