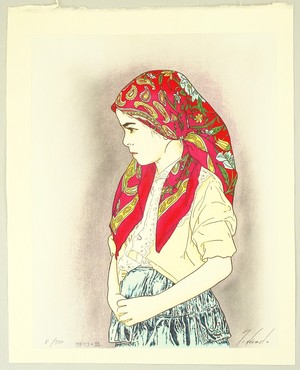 Artist: Okamoto Ryusei
Title: Red Scarf - Children of Asia
Date: 1998.
Details & Prices: Okamoto Ryusei: Red Scarf - Children of Asia - Artelino
Source: artelino - Japanese Prints
Browse all 24,756 prints...
Description:
From the series, "Children of Asia", "Uzbek no Kaku" - "Red Scarf". A girl from Uzbekistan. Ryusei Okamoto wrote about this print design: "The summer in Central Asia is incredibly hot. The temperature during the day often goes up to 40 degrees centigrade or more. While travelling, I wiped my face with a towel and drank mineral water which I often sprinkled over my head. While I was walking around, I encountered a group of children coming toward me with assorted grasses in their hands. One girl in particular was wearing a red scarf and I asked her to pose for me. Ignoring the teasing from her brothers and friends, the girl stood there firmly and looked afar. Much to my surprise. I discovered many girls have their heads shaved in this country.".