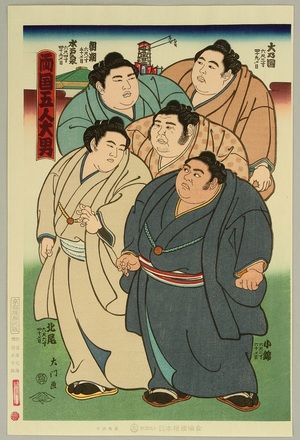 Artist: Kinoshita Daimon
Title: Five Giant Sumo Wrestlers - Sumo
Date: 1985.
Details & Prices: Kinoshita Daimon: Five Giant Sumo Wrestlers - Sumo - Artelino
Source: artelino - Japanese Prints
Browse all 24,756 prints...
Description:
Sumo wrestlers have been famous for being big. However, these five guys were not just "big" but "huge"! (from upper left to clockwise) Mitoizumi 192cm 157kg; Ohnokuni 189cm 181kg; Asashio 183cm 186kg; Konishiki 187cm 225kg, he was the heaviest sumo wresler in the official record; Haguroyama 199cm 149kg. After some 80 years of absence, the Japan Sumo Association commissioned the making of traditional nishiki-e style woodblock printing to publisher Kyoto Hanga-in, artist Daimon, carver Kishima and printer Ito in 1985. These new Sumo Nishiki-e are sold in Ryogoku Kokugi-kan in Tokyo.