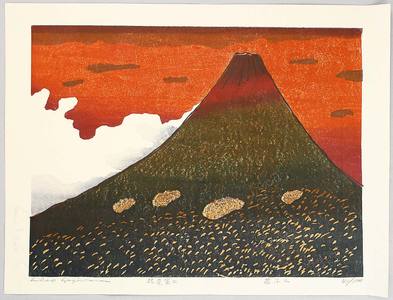 Artist: Hagiwara Hideo
Title: Red Fuji - Thirty-six Mt. Fuji
Date: Series made during 1977-86.
Details & Prices: Hagiwara Hideo: Red Fuji - Thirty-six Mt. Fuji - Artelino
Source: artelino - Japanese Prints
Browse all 24,756 prints...
Description:
From the series, "Thirty-six Mt. Fuji", "Akane Fuji" (Red Fuji). This print was one of the high-light prints in the honor of the artist and his Mt. Fuji exhibition by Institute of Eastern Studies, University California, Berkeley, USA, last year. Hideo Hagiwara is the grand master of the Japanese contemporary print artists. His compositions with mysterious lights, floating abstract forms in rich colors and textures were well known. His works are in the major museums all over the world.