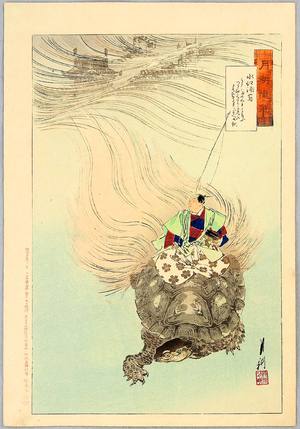 Artist: Ogata Gekko
Title: Urashima and Dragon Palace - Gekko Zuihitsu
Date: 1896.
Details & Prices: Ogata Gekko: Urashima and Dragon Palace - Gekko Zuihitsu - Artelino
Source: artelino - Japanese Prints
Browse all 24,756 prints...
Description:
"Gekko Zuihitsu" (Gekko's Sketch) "Urashima Tarou". URASHIMA Tarou is going home after he spent 3 years in the dragon king's palace. The palace is fading away under the sea waves like a dream. The large mino-game with its flowing tail swims in the ocean as if it were flying in the air. "Mino-game" is a thousand-year-old tortoise which has long tails. It is one of the four supernatural animals in Japanese legends.