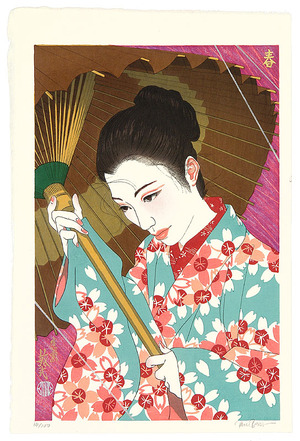 Artist: Paul Binnie
Title: The Four Seasons - complete set
Date: Spring: July 2005; Summer: May - July 2003; Autumn: Dec 2003 - July 2004; Winter: Sept - Nov 2003.
Details & Prices: Paul Binnie: The Four Seasons - complete set - Artelino
Source: artelino - Japanese Prints
Browse all 24,756 prints...
Description:
This whole series was commissioned by Mr. Bruce Tierney and Mr. Barry Stokes. The commission expected the creation of the most beautiful and lavish bijin prints which a skilled artist could possibly create today. The creation of 'shiki' (The Four Seasons) was one of the most expensive projects in modern Japanese printmaking with professional Japanese live models and frequent travels by the artist from London to Tokyo, and Tennessee (U.S.A.). The whole series took two years to complete.