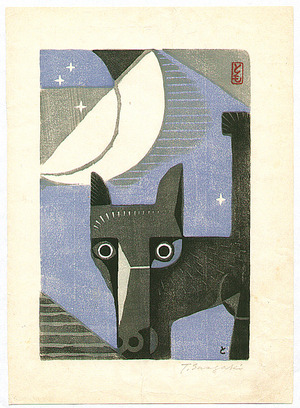 Artist: Inagaki Tomoo
Title: Midnight - Ichimokushu Vol. 6
Date: 1950.
Details & Prices: Inagaki Tomoo: Midnight - Ichimokushu Vol. 6 - Artelino
Source: artelino - Japanese Prints
Browse all 24,756 prints...
Description:
From Sosaku Hanga folio, "Ichimoku-shu", Vol. 6, "Shinya" (Midnight). The half moon, shining stars and a large eyed wolf strolling in the midnight. The folio was published from "Ichimoku-kai", a small sosaku-hanga artists group established by Koshiro Onchi in 1939. The group consisted of Jun'ichiro Sekino, Umetaro Azechi and Yamaguchi Gen. The membership gradually increased and they decided to publish a group folio in 1944. They published the folio on and off every year from 1944 through 1950s. 17 to 24 prints were included in one folio depending on the membership at the time. Ichimoku-kai became the spearhead to introduce Sosaku-hanga to Japanese public and the overseas later.