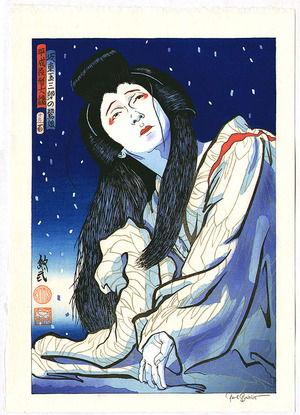 Artist: Paul Binnie
Title: Bando Tamasaburo in Sagi Musume
Date: July 1997.
Details & Prices: Paul Binnie: Bando Tamasaburo in Sagi Musume - Artelino
Source: artelino - Japanese Prints
Browse all 24,756 prints...
Description:
From the series, "Heisei Yakusha Oh-kagami". Sagi Musume, the Heron Maiden, is a very beautiful dance where the spirit of a heron and a young girl are mixed with numerous costume changes and alterations of mood and music. Bando Tamasaburon V is a famous dancer and onnagata (female role-actor) and is rightly renowned for this piece. (description by the artist, Paul Binnie).