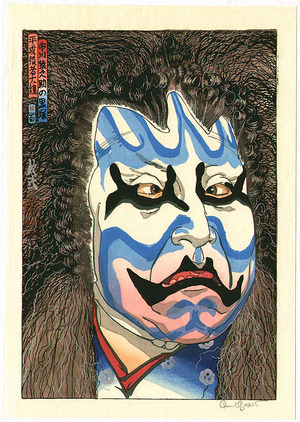 Artist: Paul Binnie
Title: Ichikawa Ennosuke in Kurozuka
Date: July 1997.
Details & Prices: Paul Binnie: Ichikawa Ennosuke in Kurozuka - Artelino
Source: artelino - Japanese Prints
Browse all 24,756 prints...
Description:
From the series, "Heisei Yakusha Oh-kagami". In a hut by the roadside, an evil man-eating monster, another great role for Ichikawa Ennosuke III, disguises herself as an old lady to prey on unsuspecting travelers. In Kurozuka, literally the black house, Ennosuke wears spectacular blue "Kumadori" make-up signifying evil, and even paints her teeth red to represent human blood. (description by the artist, Paul Binnie).