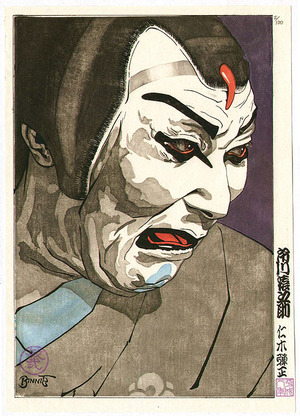 Artist: Paul Binnie
Title: Ichikawa Ennosuke as Niki Danjo
Date: April/May 1996.
Details & Prices: Paul Binnie: Ichikawa Ennosuke as Niki Danjo - Artelino
Source: artelino - Japanese Prints
Browse all 24,756 prints...
Description:
The character of Niki Danjo, famously played by Ichikawa Ennosuke III, is the evil magician in "Meiboku Sendai Hagi", a play about the struggle for control of a noble house. Here, Danjo has just changed back from a rat, a shape he used to steal an important scroll, and bears a scar on his forehead caused by a loyal retainer's metal-ribbed fan. (description personally by the artist).