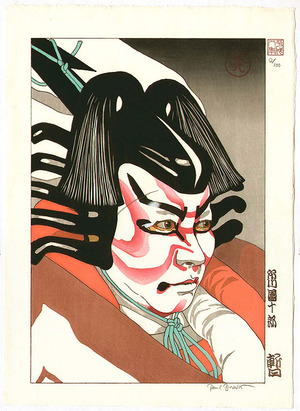 Artist: Paul Binnie
Title: Ichikawa Danjuro in Shibaraku
Date: February/ March 1996.
Details & Prices: Paul Binnie: Ichikawa Danjuro in Shibaraku - Artelino
Source: artelino - Japanese Prints
Browse all 24,756 prints...
Description:
The character of Kamakura no Gongoro appears in the ritualised play "Shibaraku", which means "Wait a moment!". This word is called by the actor, in this case Ichikawa Danjuro XII, before he arrives on stage. Deus ex machina, Gorgoro arrives mid-way through the unlawful preparations for execution of a party of nobles, and is the most graphic examples of costume, wig, and "kumadori" make up in Kabuki. (description by the artist, Paul Binnie).